---
SANDHILLS BOER GOATS - is a family owned business located in North Platte, Nebraska. Our mission is to supply quality breeding stock that are productive, maternal and healthy. We very seldom show our goats but when we do they show very well. WE HAVE GREAT BLOODLINES that must breed, deliver, mother and prove they are worthy to represent the breed in all the area's that count. We have raised goats since 2000 and started registering them in 2002. Many of our goats can be traced back to the very beginning.
​
​ We are located in North Platte, Nebraska. Give us a call at 308-636-6232 or send an E-mail to sandhillsboers@gmail.com

JIM, LINETTE and KIRBY CORFIELD​

​ ALL BOER kids are out of very productive does that carry amazing genetics, like Remington, Ruger, T333 Ripper, Ghut Festus, Red
​ Hot Dappled $, CBC Freightrain, Blue Gainey's V67, 2Dox Main Attraction, SWE Main Event, Flyin S Pipeline's Design X76, RRD Gauge, RRD Remfire, Mojo Magic, FSE Dyna-Mo, Downen Design 19, Mbili SA, Eggsonerate, LRB Hobenero, Kaptein, Pipeline, LAZY S-T Coppertox, 3LF Stargates Infinity, LK7 Lucky Dog*EN*, JAD SRB Ruger's Evolution*EN*, JAD SRB Evolution's Into Darkness*EN*, AABG Tidal Rave*EN*, NF3 Newton Farms Gracie's Smokin' Girl*EN*, MFR1 2Dox Royal Commander*EN* and MFR1 2Dox Musta Been The Whiskey *EN*.


​
​


Bucks are DNA'd unless stated
10745451 - KIBG M'LADY's TRUMP CARD, DOB 1-6-2017
10422533 - FH1 FERN HOLLOW FARM RUGER's CRIMSON TRACE
10437022 - LAB LAZY S-T RIP CHORD *en*​
10259757 TGGG TOBIAS
10216545 TGGG TSJAKALI
HIS SIRE is 10693452 RCD LAZY S-T D975
and Dam is 10442264 3MB W337​​​​



​​​New buck for a few 2022 kids is 10893848
NWIL B65B RIPPIN COLONEL


​​​​ 10652260 2JW CRACKERJACK'S PRIZE
​ ​ 10718517 OKBG OUTBACK DAPPLEJACK
10757397 CRRO RIPPIN CRACKERJACK
10639659 3LF STARGATE's INFINITY
10692240 JRB3 INFINITY ON ICE
10683134 TADI TADITA OBSIDIAN'S PRECIOUS GEM​​​​​​ ​


DNA on file/ Colonel was used in 2021 and 2022, Super nice to work with and produces VERYcolorful kids. ​​

FOR SALE :
​1300.00
AWESOME buck, hate to part with him, but we have a lot of does out of him. Will not ship, Buyer pickup only. Wormed once and have never trimmed his feet. Not a pet, not mean, does his job and minds his own business.
NEW IN 2022​
HERM DARK PATRIOT /FULLBLOOD​
SIRE: 10812894 JAD SRB EVOLUTION'S INTO DARKNESS​ *EN*
DAM: 10844810 8881 8881DBL-D D76 MUSTA BEEN THE WHISKEY K68
​ KIDS in APRIL 2023 from this sire!
PATRIOT produced very nice kids for us. Sadly we lost him to a freak accident in April. But he left many, many offspring to carry on!

Don't miss out on some GREAT breeding stock or your next show​ animal.​

DNA will be on file!!!​​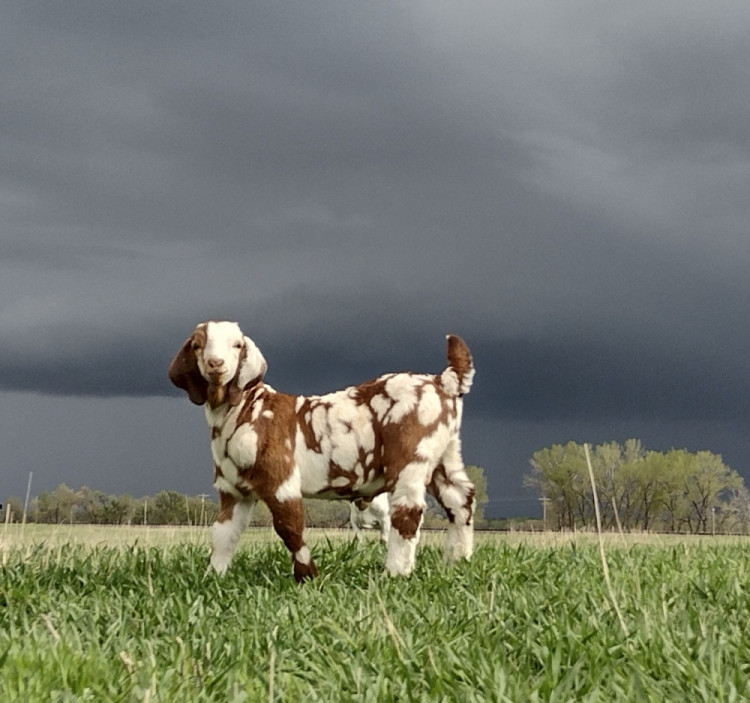 SANDHILLS

BOER

GOATS​​​​